news of 2004-10-27
---
Newer Tiger Info (and screenshots)
Thanks to a source with access to one of the newer Tiger builds, we can show you a few new screenshots.




This one shows the new battery menu bar item. It offers a bit more choice than Panther's.




Here we see the family control options in place.




A look at Mail.app's new interface.




You can get info on an e-mail account and get a window like this.




Here you see that Safari 2 offers a choice for your default RSS reader application.




Finally, we can encrypt Virtual Memory, too.




And the 'target disk mode' from Startup Disk system preference pane...




Another good look at the new style of interface, this time System Preferences. Currently, it seems that Tiger has three interface styles. NewAqua (like Panther), Brushed Metal (like Panther) and Aluminum. And then there's the new menubar style you can see in some of the screenshots.




TextEdit opens Word files with tables. Still with some issues, but basic support is here.

We hope to bring you more and new information on Tiger's process soon. Stay tuned...
[ written by fryke™ on 2004-10-27 at 22:31 CET ]
[ contact (e-mail) ] - [ story link ] - [ back to top ]
We know that Apple in all probability won't release another iPod in the coming six months. My guess is that we'll see the white iPods go all colour screen in the next revision (5G). This might happen next Spring or Summer. Video, in my not-so-humble opinion, is the logical next step. Sure, there are issues (we'll come to those in a moment), but rather than dismissing an iPod Video, I hope that Apple will take these issues head-on, solve them and create the real next step in a future generation of the iPod.

The Issues
Apple has repeatedly said users wouldn't want to watch videos on such a small screen. At yesterday's press event, Steve Jobs looked at the first PMCs and said they were too big, too heavy and had too small a screen. That's two issues. The first one is a question: Would there be enough potential buyers? And the second issue is a task rather than a question. The task is to create a device small enough to be pocketable (iPod size) and a screen large enough for viewers to enjoy flicks. The third issue is missing content, also mentioned by Steve Jobs yesterday (and the reason they went with photos for the iPod Photo, where licensing is a non-issue and content is readily available on the user's part).

So, would there be enough potential users?
This question is both difficult and easy to answer. Surely, 'music' has more potential users than 'video' per se. But how many potential users are enough for Apple to produce an iPod Video? We don't know. What we do know is that people around the world are watching a lot of music video clips, a lot of TV in general and that they do buy a lot of movie DVDs. If you can simply hook the iPod Video to a TV set like you can with the iPod Photo, I don't really see the problem of the small screen. Video would also just be 'yet another' feature. You could still use the iPod for music or photos only. And I guess a lot of future iPod Photo owners will mainly use it for music playback rather than photo sessions.

Small enough device, big enough screen...
The current iPod's size is perfect. No need for it to grow, no need to shrink. Now if the whole front could be a screen, that'd make a good screen for watching short flicks like music videos in a train. It responding to touch would reduce the need for hardware buttons and scroll wheels. Problem solved? Well: I'd let Apple surprise me. If they have an even better way of doing it, please do so...

Missing content?
That's flat-out a lie, in my opinion. There's a lot of video content. Let's start small! Apple could use the iTMS to also sell music videos. Actually, they could use MPEG-4 (H.264, preferrably) with AAC sound which would result in files about 30 MB in size, and you could choose at play-time whether you want to see the video or just use music playback. I'm sure there could be said a lot more about music videos alone (and this is feasible and attractive, I think!), but let's move on. TV shows. Using H.264, a 45 minute TV show (which is 'normal' for many series) could be about 200 MB in size for a good quality video file. Sure, that's a lot of space, but I see people buying DVD boxes of old seasons, so why not buy the shows while they're still new? And to the creators: Why not sell the shows directly to the customer? And then there's movies. People love movies. (Apple loves movies, too, and I'm sure Steve Jobs is proud that that Nemo DVD was the best-selling DVD ever?) And I'm pretty sure that a mom would love to be able to give her kid the iPod to watch a movie or two instead of having to take care of all those DVDs and video cassettes and that the kid doesn't eat the packaging. Well, I hope the kid won't eat the iPod Video, but you see what I mean, probably.

Conclusion
My conclusion is simple. No, we won't see an iPod Video for some time now. Yet, if done right, the iPod Video could simply be the next iPod. In several senses. It could be the next success explosion for Apple. It could be the next step in content sales for Apple (iTunes Video Store etc.). And it could simply be the coolest music player that is already an icon more than the Walkman by Sony ever was! Additionally, it would also double as a video player you could hook up to your video beamer or TV set. Give it the right Java interpreter and suddenly there are also a lot of games available (those do sell well for mobile phones all over the world, maybe with the exception of the USA). May my critics be reminded, that we do already live in the 21st century. :)
[ written by fryke™ on 2004-10-27 at 13:22 CET ]
[ contact (e-mail) ] - [ story link ] - [ back to top ]
Critical Mass Reader Mail Leading To An Answer. ;)
We do get a lot of e-mails by readers. Questions, comments and criticism. We don't usually react to them publicly, but the inbox has hit critical mass this time. ;)

You all know that I'm not just another Apple fan boy, and that while I enjoy Apple's technology and generally have a positive feeling about what Apple's doing, I also criticise them quite often. Today, however, is not that day. Yet: I've rarely encountered so many critical voices after Apple had released another product. People, it seems, think the iPod Photo is "too little, too expensive" (quoting one reader's message). The consensus of the critical messages is the following: Many people think the iPod Photo will not attract many people, as its colour screen is too small to view photos in good enough quality. I beg to differ...

As long as the iPod does not gain video capabilities, think of the iPod as a music player first - and everything else second. Yes you can use it as your newsreader on-the-go by feeding it textlets. Yes you can use the new iPod Photo to have your family photo slideshows with you when visiting relatives (and show them on their TV set, using the A/V cable, too!), but the most important thing about this new iPod - at least in my opinion - is that listening to music and selecting tracks becomes more beautiful.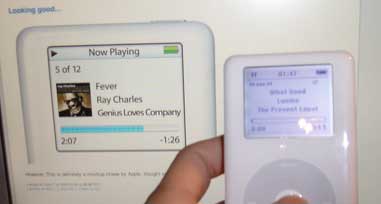 A nicer graphical interface as unobstrusive as this one is a pleasure to behold - and can make all the difference.

I can imagine myself, holding my iPod 4G 40 GB model, sitting next to an iPod Photo user. If he's looking at his photo collection, I won't mind, really. But seeing him use the colourful interface will quite surely turn me green with envy. Would I have paid the 100 USD more to get the iPod Photo 40 GB instead? Doesn't 100 USD sound like a bit much for just the interface? Well, I guess I would have to go into that mode and tell everyone around me that it synchs with my iPhoto collection, too (which you know is not a big interest of mine), but I guess I would have paid those 100 USD, in fact, for the interface. But I'll probably stick with this one that I have for now, since it's still the best music player around. And it'll serve me well for another two years. I guess my next iPod will have video functionality.
[ written by fryke™ on 2004-10-27 at 01:53 CET ]
[ contact (e-mail) ] - [ story link ] - [ back to top ]